10 Best Rifles In Red Dead Redemption 2, Ranked
Not every Red Dead Redemption 2 rifles is good in a fight, so it's important to find the right one. This list will help you find the right weapon.
In the Wild West, rifles became accurate enough for the average man to buy and cheap enough for him to use. The world of Red Dead Redemption 2 does a great job of showing this. Both players and NPCs can use a variety of big and small rifles, which is a staple of both the Red Dead and Grand Theft Auto series.
Rockstar has a lot of different arms, but not all of them are equally strong or useful. Some rifles are useful in any situation, while others are more like fun toys than anything else.
Varmint Rifle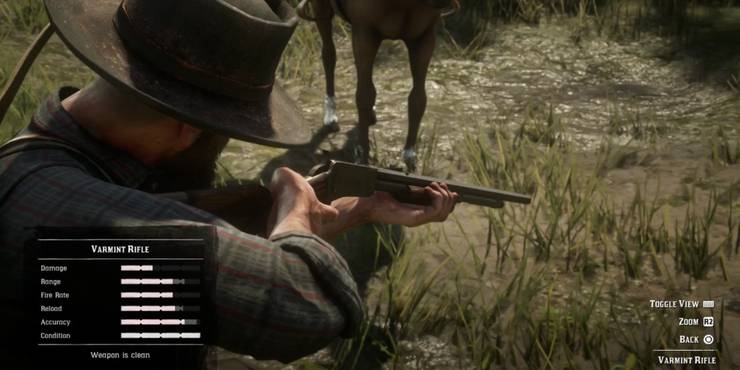 As the name suggests, this is a rifle made to kill snakes, rabbits, and lizards that are a nuisance. The Varmint Rifle costs $72.00 and has a tubular magazine that holds a good 14 rounds. However, its small caliber means it does very little damage.
Even if you use special ammunition, this is still true. If a player wants to go hunting, having this on hand can be very helpful, but if they don't want to hunt, it's easy to choose another rifle.
Elephant Rifle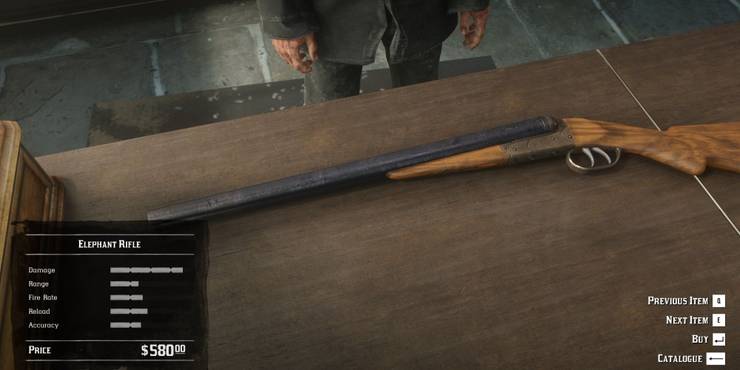 The Elephant Rifle is a huge gun with two barrels that can fire powerful Nitro Express rounds. The Elephant Rifle is only available in Red Dead Online, costs $580, and is more like a shotgun than a traditional rifle.
The weapon has a short range for a rifle, and its fire spreads out after a certain distance. This means that it rewards players who are accurate and patient, but hurts them in a firefight.
Carbine Repeater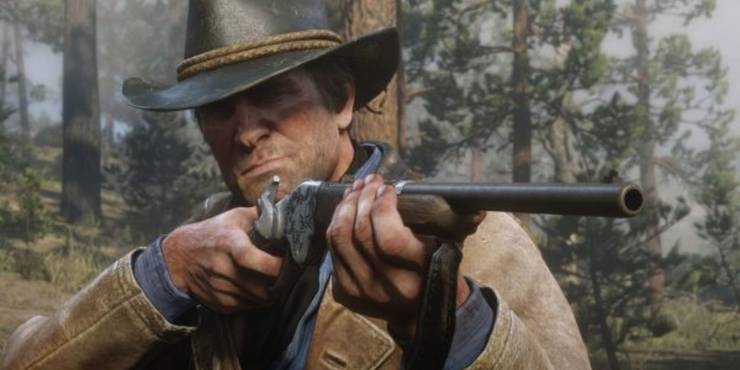 The Carbine Repeater is the early-game workhorse weapon that most players will use. It is easy to find in the open world of the single-player game and is given to the player for free in Red Dead Online.
The Carbine costs $90.00 in the store and can hold 7 rounds. It does decent damage at a distance and has average accuracy, making it a good stand-in while players level up and progress in the game to get better rifles.
Springfield Rifle
The Trapdoor Springfield Rifle is a single-shot, breech-loading rifle that is great for skilled marksmen hunting NPCs, animals, and other players. The Springfield is available after the end of Chapter 1 and costs $120.00 ($156.00 in Online). It hits hard and is accurate at long range, but it can only fire one bullet at a time, which is a weakness.
Other rifles in the game hold more than one bullet, which makes it easier for the player to stay alive in a firefight or horse chase. The Springfield, on the other hand, isn't very good at this. It's a beautiful piece of history, but it's best to keep it out of the way until its time comes.
Rolling Block Rifle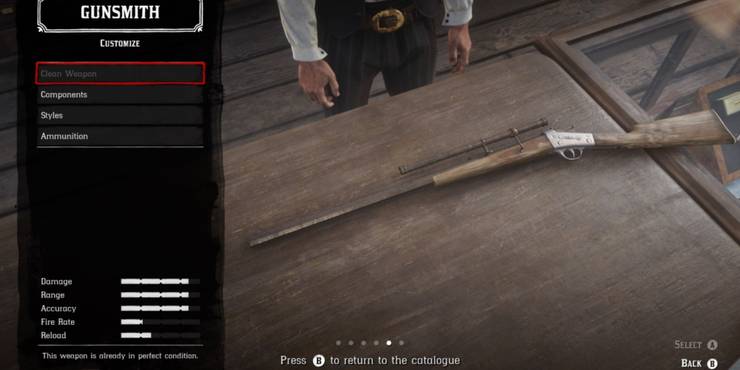 The Rolling Block is a single-shot rifle that is always scoped for long-range use. The Rolling Block is one of the two dedicated sniper rifles in Red Dead Redemption 2. You can get it for free during "The Sheep and the Goats" or for $187.00 ($411.00) in online play.
The Rolling Block hits hard and is very accurate, but it can only be shot once, which makes it less useful when enemies or wild animals get too close.
Evans Repeater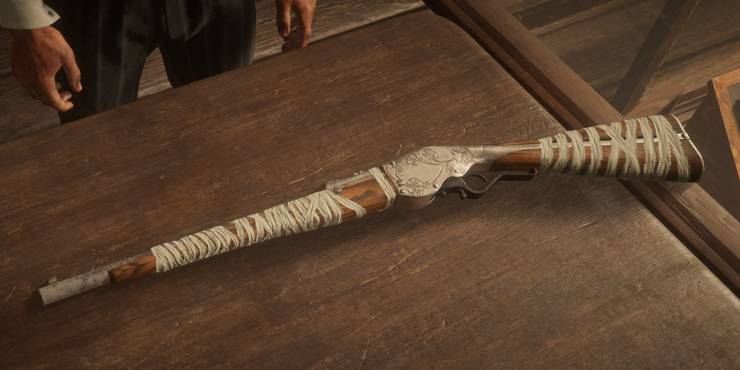 The Evans Repeater is the most powerful rifle in the game. It can hold up to 26 rounds at once, making it useful for medium- and long-range firefights that last a long time. The Evans Repeater can be bought after "American Distillation" in chapter 3 for $140 ($300 in Red Dead Online). It does average damage and has average accuracy.
It does have some good points, though, like being strong and having a fast rate of fire and a lot of ammo, which makes it useful in many situations.
Bolt Action Rifle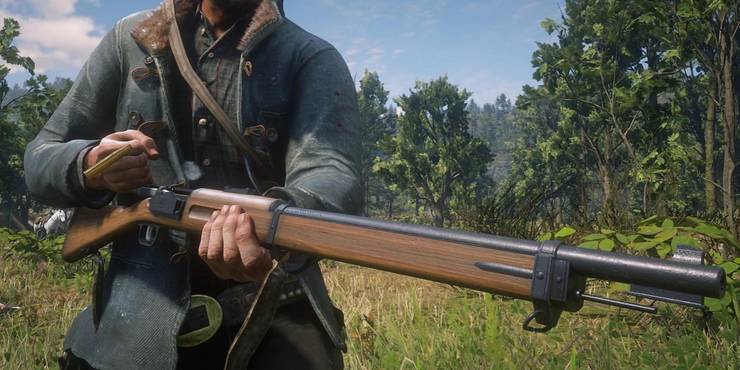 The ill-fated US military Krag-Jorgensen rifle is a smooth and accurate bolt-action gun that can hold 5 rounds. The Bolt Action Rifle is a versatile weapon that can be bought in Chapter 3 or found in the hands of certain NPCs in Chapter 2. It costs $180.00 ($216.00 in Online) and can be used in almost any situation.
The only bad things about it are that it has a small magazine and isn't very accurate when moving quickly, which can be a problem in some situations. It is a great piece of history and a powerful gun for players who need to kill something or someone.
Litchfield Repeater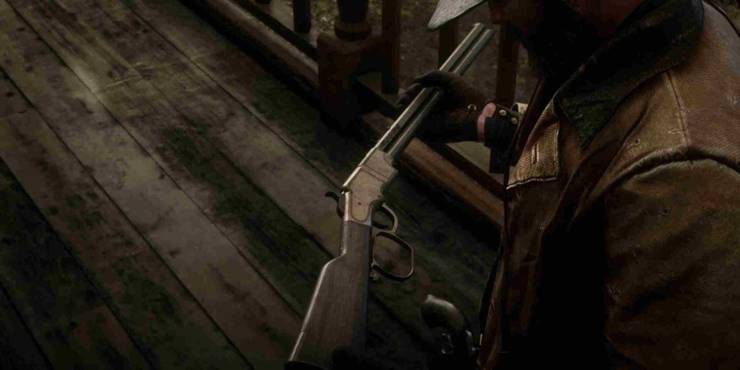 The Litchfield is based on the Henry Repeating Rifle from 1860. It is accurate and can kill players who use it. After you finish "Goodbye, Dear Friend," you can buy the Litchfield for $145 ($348 in Online), but it fires slowly and takes a long time to reload.
It also has good accuracy while moving and a large 16-round magazine, making it useful for a wide range of players and play styles. For how much it costs and how easy it is to get, the Litchfield is a good choice for a gun.
Carcano Rifle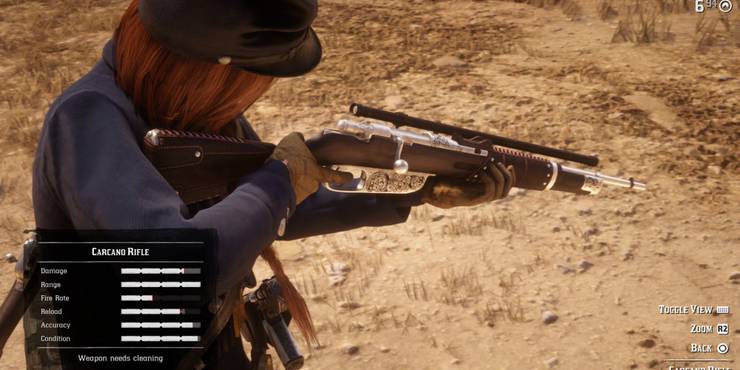 The Carcano Rifle is an Italian bolt-action rifle with a scope. It looks out of place in history, but it hits hard and is beautiful. The Carcano can be bought for $190.00 ($456.00 in Online) in several missions and in the second half of the campaign. It is very accurate and very powerful, making it the perfect long-range killing machine for hunting or fighting a large number of other players.
The only real problems are that it can only hold 6 rounds of ammunition and that it can only be aimed with the scope and not from a third-person view like most other weapons. Aside from these two problems, the Carcano is a great long-range weapon that players will do well with.
Lancaster Repeater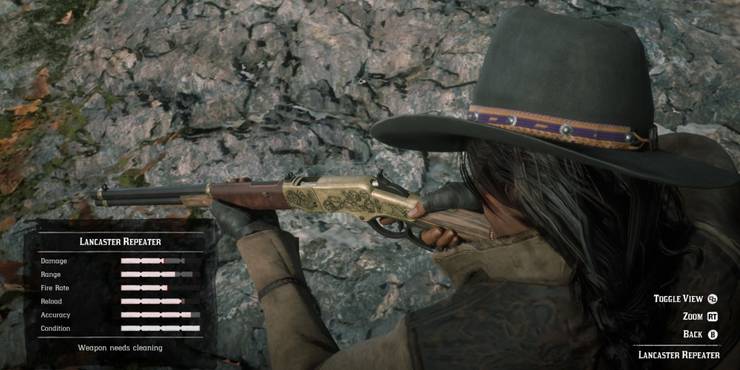 The Lancaster is the famous and tough Winchester lever-action rifle. It is a powerful weapon that can help any player, no matter how they play or what situation they are in. The Lancaster can be found in different places in the open world or bought for $135.00 ($243.00 in Online). It has an above-average fire rate, damage, accuracy, and 14-round ammo capacity, and it reloads quickly.
It's a real workhorse that can be used in any situation in the campaign or in Happy Wheels game. It can even fire effectively while riding high on a horse. The Lancaster is the best multi-tool gun there is, and every player should try to get one as soon as they can.